Karrke Aboriginal Cultural Experience and Tours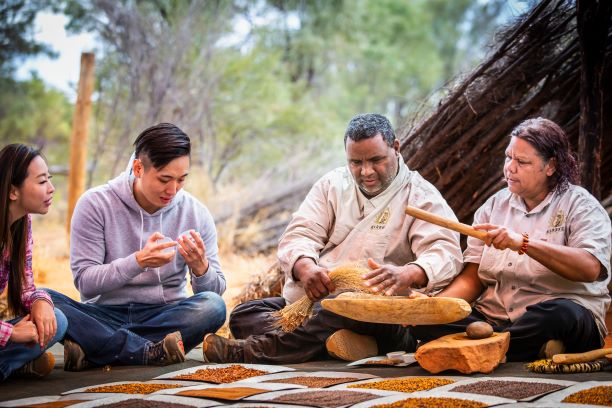 Duration: 1 Hours (approx.)
Location: PETERMANN, NT
ABOUT US
Karrke Aboriginal Cultural Tour is owned and operated by Christine Breaden - Traditional Owner and partner Peter Abbott who live in a small Aboriginal community called Wanmarra. Wanmarra Community is 450kms south west of Alice Springs, we share the south eastern boundary of the Watarrka National Park (Kings Canyon) area and we are situated 36kms from the Kings Canyon Resort and Rim Walk Eastern end. Our cultural tour is a one-hour small walk and talk on the traditional lands of Wanmarra family group sharing with visitors Luritja and Pertame (Southern Arrernte) language and culture, we explain in great detail bush tucker and medicine, the making of spears, boomerangs, music sticks and native seed jewellery up close. Our tour is a See it, feel it, experience it suited for all family groups, students, educational groups, free independent traveller, inbound operators and seniors. We have shaded display areas with seating. The access road to Karrke Aboriginal Cultural Experience is a 2 kms of unsealed road from the Luritja Highway (signposted) opposite Kings Creek Station.
ABORIGINAL CULTURAL EXPERIENCE TOUR – 1 HOUR

Operating Days: Wednesday to Sunday from 01 February to 31 October inclusive.
Departing tour times from 9:00AM, 10:30AM, 2:00PM, 4:00PM
Photographs are very welcome. We respectfully ask that there be NO filming and or voice recording on the tour.
KARRKE do not provide transfers for travellers which are not included in all rates. Travellers will be required to arrange their own travel arrangements to and from KARRKE.

Prices

All prices are displayed in AUD GST included and subject to change.
Infant, Child, Concessions prices

Infants under four (4) years old travel free of charge.
Children five (5) years but under eleven (12) years old will be charged at the child rate.
University / TAFE students eighteen (18) years and over will be charged at the adult rates.
Elders who are an Australian resident with a nationally recognised Senior's card, will be charged at the concession rate.